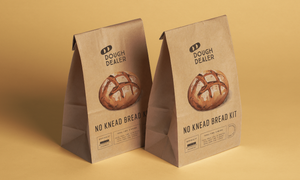 No Knead Bread Kit
Sale price Price $25.99 Regular price
Tax included.
A beginner level bread kit for creating delicious homemade country boules. Everything you need to create the perfect airy and crisp loaf is in this kit pre-portioned, along with our foolproof recipe. Learn how to make bread with us! 
Our ingredients are sourced from local and farmer-founded businesses around the US like Jacobsen Salt Co. Salt and Farmer Ground Flour. We believe that the best ingredients — paired with a little bit of love — create the best breads.
Each bread kit includes
Farmer Ground Organic Stoneground High Extraction All Purpose and Whole Wheat Flours
Jacobsen Salt Co. Trapani Sea Salt
Kosterina Extra Virgin Olive Oil 
Baker's Yeast
Baking Paper
Our Recipe
The process takes 15 minutes of active work plus 3 hours 45 minutes resting, rising and baking. Most of the time you'll just be hanging out while your bread magically forms. Yields one loaf of bread. Get your dough!