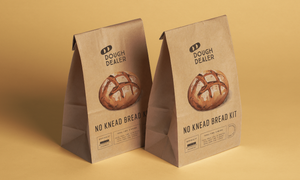 No Knead Bread Kit
Sale price Price $25.99 Regular price
Tax included.
Everything You Need For the Perfect Loaf
At Dough Dealer we want to share the joy of making homemade bread. Bread has a history of bringing people together and we think that's special.
Proud to work with small and farmer founded US businesses
Stoneground local flour, Hand Harvested Salt, and Antioxidant-full Olive Oil perfectly portioned.
Warning: The scent of fresh baked bread wafting through your home can attract hungry friends and family. The first bite is also known to cause feelings of grandeur, accomplishment, and a thirst for more bread baking.
Nothing Beats Fresh Bread, a Dash of Olive Oil, and a Sprinkle of Salt.
Homeade Bread pairs well with
 • Olive Oil and/or slabs of butter • Impressing at dinner parties • Cheese • Making your co-workers jealous at lunchtime